Technical descriptions:
Roller shutters with an aluminium profile and an ecological polyurethane foam core.
Our roller shutters are the most innovative and safest answer to traditional PVC roller shutters. They are an efficient alternative to Persian shutters because they are much more resistant to wear, they do not need maintenance and they can be used in several ways. They can be handled from the inside with a closed window, disappear into a shutter box, allowing the brightness to be altered in a room and, provided with a protruding frame, create shaded areas while allowing room ventilation. A polyurethane foam core (also in high density) is able to ensure efficient and effective thermal/acoustic insulation.
They are available in a wide range of colours.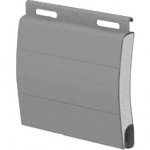 Download the technical documentation
Index:
– Aluminium roller shutter
– "HIGH DENSITY" aluminium roller shutter
– MIGNON GR 30 aluminium roller shutter
– Mignon "HIGH DENSITY" GR 35 aluminium roller shutter
– Mignon "FLAT PROFILE" GR 10 aluminium roller shutter
– MIGNON "HIGH DENSITY FLAT PROFILE" aluminium roller shutter,  colour reference GR15
– Base aluminium colours
– Aluminium wood-effect (and marbled) colours
– "MINI" aluminium colours (GR 30, GR 35, GR 10, GR 15)